Here's a project I did last summer sometime.  I was watching TV on day and seen these really cute pair of earrings.  However, the only draw back was that they were really expensive.  So I got the thinking, "hmmm  I think I can do that".  So that is exactly what I did.
The first pair was a flop.  I learned that the earrings on one earring needed to be flipped on the second.  The inspiration hit me.  Why not add beads I though.  So I did.  And this is what I got.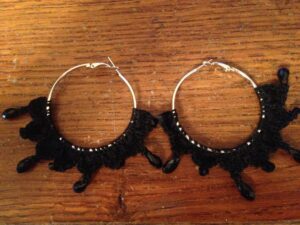 I have worn them quite a bit.  I've worn them dressed up and dressed down.  People that see them just love them and ask where I got them.  When I tell them that I made them they are a bit shocked.  I've even wore them while riding on the back of hubby's Harley and they stay put.  Not to mention they are so light weight I have forgotten a few times that I was even wearing them.
I liked them so much I made a few extra pairs.  You can purchase these by clicking here.
Here's a project I did last summer sometime.  I was watching TV on day and seen these really cute pair of earrings.  However, the only draw back was that they were really expensive.  So I got the thinking, "hmmm  I think I can do that".  So that is exactly what I did. The first pair […]
Tags: crochet / earings / picot